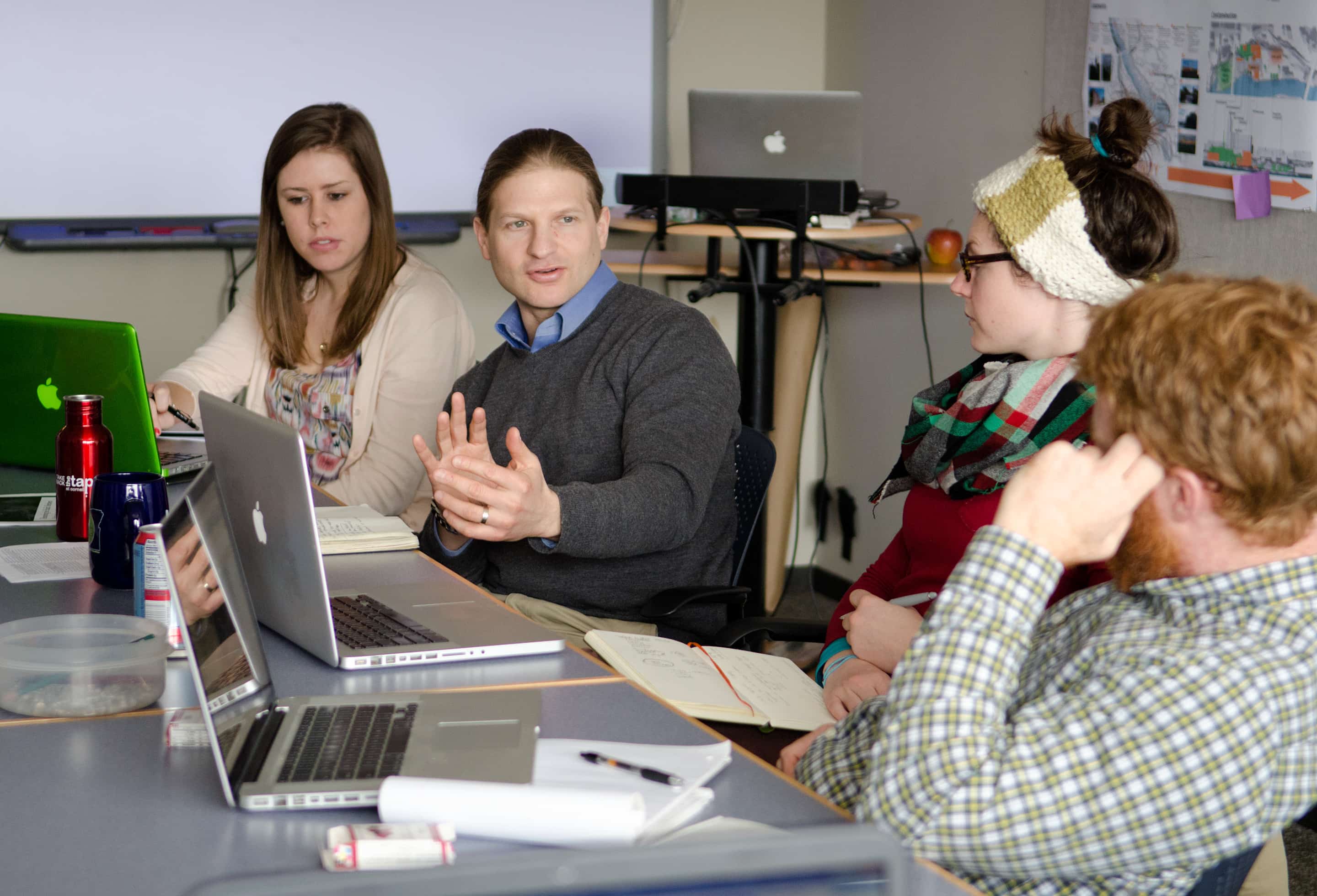 Photo credit: Robyn Wishna Photography
Joshua F. Cerra, ASLA
Associate Professor Cerra has practiced as a designer and ecologist for over 25 years combined. His work investigates relationships between urban ecosystems, communities and site development processes, and their implications for climate-adaptive design and urban ecological design. His studio-based efforts have received award recognition from the national American Society of Landscape Architects, the Council of Educators in Landscape Architecture, and Cornell University.
Cerra directs the Climate-adaptive Design (CaD) studio, which in partnership with New York State Department of Environmental Conservation, Scenic Hudson and others links design students with flood-prone Hudson riverfront municipalities to develop alternative design strategies for more climate-adapted and connected waterfront areas.
Cerra also directed the YardWorks Studio, which in partnership with the Cornell Laboratory of Ornithology developed urban ecological design techniques that enhance urban ecological conditions in ways that are compatible with social norms, interests and needs.
Cerra is a principal investigator for the Climate Change Garden, an interpretive research installation on Cornell campus that uses a high tunnel to create a comparative environment for enhancing visitor awareness of changing temperature variables associated with climate change projections and their possible impacts on plants. The environmental, phenological, and visitor experience data being collected are being used to tune the installation's performance and interpretive benefits.
Education
Master of Landscape Architecture, University of Minnesota, 2003
B.A. in Biology, Vassar College, 1993
 Experience
Associate Professor and Director of Graduate Studies
Cornell University Department of Landscape Architecture
July 2017 – Present
Assistant Professor and Director of Undergraduate Studies
Cornell University Department of Landscape Architecture
2011 – July 2017
Adjunct Professor
University of Oregon Department of Architecture
2008-2010 (3 quarters)
Designer and Senior Ecologist
Herrera, Inc.
2007 – 2011
Visiting Guest Studio Instructor
University of Oregon Department of Architecture
2006-2010 (7 quarters)
Designer and Project Ecologist
David Evans and Associates, Inc.
2003 – 2007
Restoration Project Manager
Habitats, Inc.
2002 – 2003
Metro Habitat Planning Assistant
Minnesota Department of Natural Resources
2001 – 2002
Regional Planning Research Assistant
University of Minnesota Department of Landscape Architecture
1999 – 2001
Biological Technician / GIS Technician
United States Bureau of Land Management
1995 – 1999