Inspiring climate awareness and action via participatory design

Advancing research into climate-based adaptation and engagement
Working with the next generation of designers to bring socially and ecologically resilient design futures to the world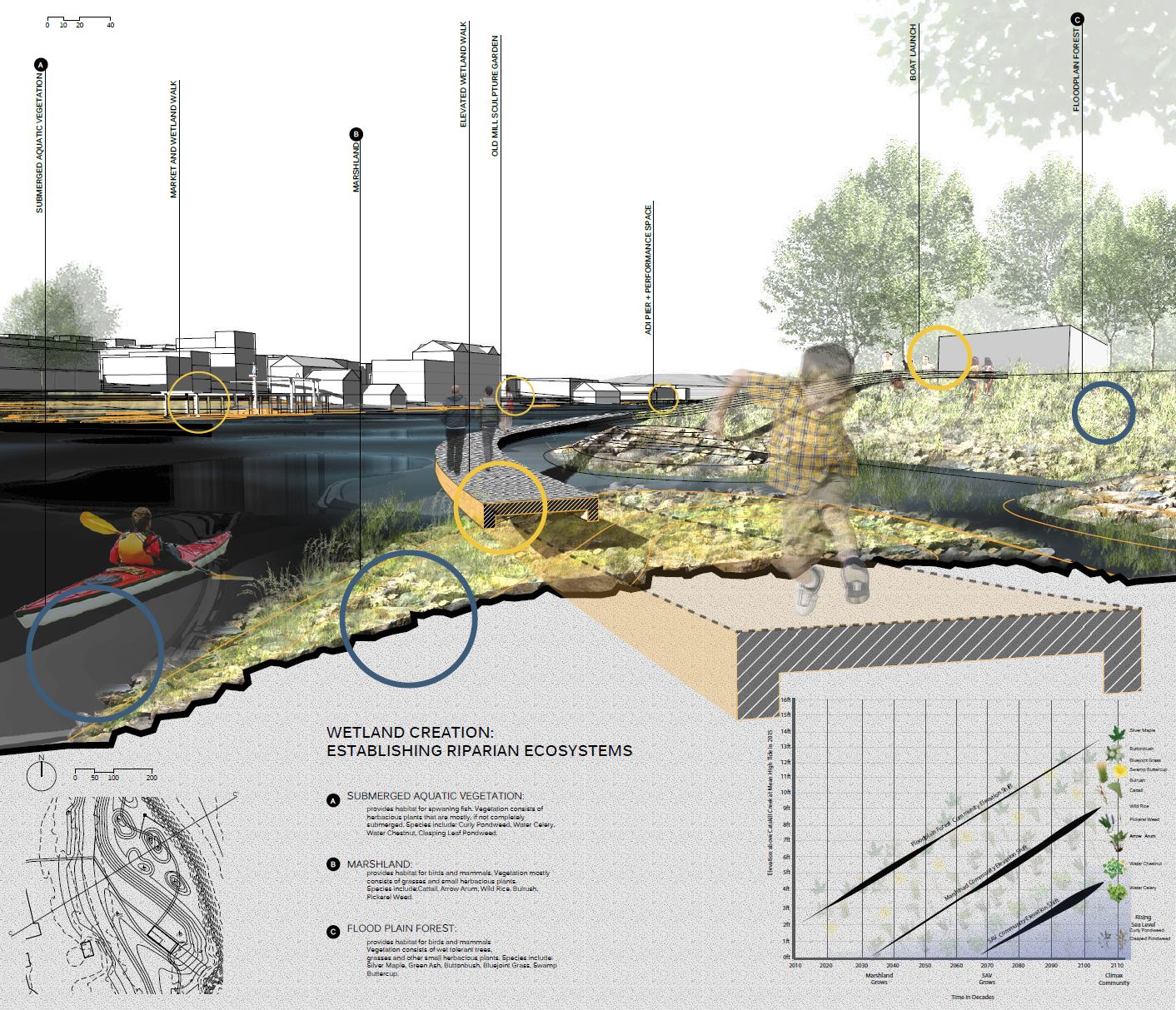 Number of Academic studios
Contact hours with CaD Stakeholders
Millions of dollars of leveraged funds awarded to communities for projects with a resiliency component referencing CaD
Users hits on WRI website + YouTube video in English and Spanish
Metrics calculated by Libby Zemaitis, Climate Outreach Specialist, New York State Department of Environmental Conservation Hudson River Estuary Program
The Climate-adaptive Design (CaD) program is a design research effort in partnership with New York State Department of Environmental Conservation Hudson River Estuary Program, Cornell Biological and Environmental Engineering, Scenic Hudson, Cornell Cooperative Extension and others. The CaD Studio links Cornell students in landscape architecture, planning, and watershed engineering with at-risk municipalities to explore alternative design strategies that envision more climate resilient and connected waterfront communities. The participatory action research approach seeks concurrent teaching, research, and community benefits. Since 2015 the program has worked with four municipalities on six projects in the Hudson River Estuary north of New York City with funding support from USDA NIFA, New York State Water Resources Institute, and Engaged Cornell.
See also:
Smith, Graham, Joshua F. Cerra, and Libby Zemaitis. 2019. People and place: Understanding social dimensions of resilience in the Climate-adaptive Design Studio. Proceedings of the 50th Annual Conference of the Environmental Design Research Association Conference. New York, USA.
Cerra, J. (2016). Inland adaptation: Developing a studio model for climate-adaptive design as a framework for design practice. Landscape Journal. 35:37-56.
Ossining
Our most recent CaD studio worked with the Village and Town of Ossining to investigate adaptive futures for their growing waterfront in Fall 2019.
Kingston III was our most recent CaD studio in the City of Kingston. The design investigation focused on the East Strand waterfront section of the Rondout River in Kingston, New York.
In the Spring semester of 2017, the CaD studio worked together with the Village of Piermont, New York. The project area includes the entire downtown waterfront area along the mouth of Sparkill Creek as it intersects the Hudson River.
In the Fall of 2017, the CaD studio took place in the City of Kingston for the second time. The studio focused on Kingston Point Park area as it extends into the Hudson River.
The CaD studio in the Spring of 2016 focused on the South Bay waterfront area of Hudson, New York as the basis for the planning and design effort.
In the Fall of 2016 the CaD studio for the first time worked in the City of Kingston, New York. We investigated climate-adaptive design strategies for the Block Park area adjacent to Rondout Creek.
The first community-engaged CaD Studio took place in Fall 2015. We investigated the downtown area of Catskill, New York and its associated waterfront area adjacent to Catskill Creek.
Syracuse
(Studio Prototype)
This prototype studio refined the comprehensive Climate-adaptive Design framework approach piloted in the prior studio. The project study area was along multiple locations adjacent to Onondaga Creek as it flows through the downtown Syracuse Armory Square area.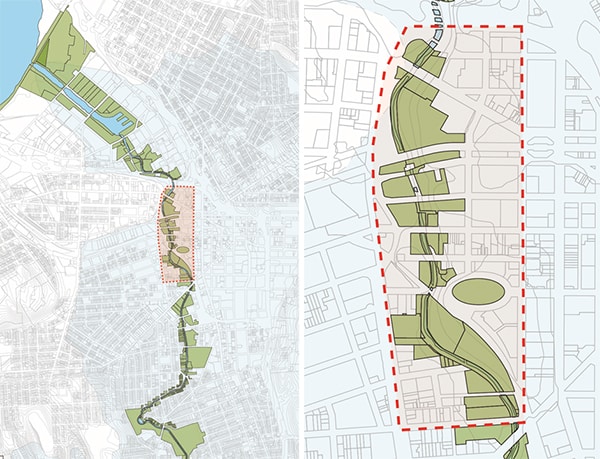 Ithaca
(Studio Prototype)
This prototype studio piloted the comprehensive Climate-adaptive Design framework while focusing on urban revitalization opportunities in the Thompson Triangle Park area fronting Cascadilla Creek, a popular retail area and two dense residential neighborhoods.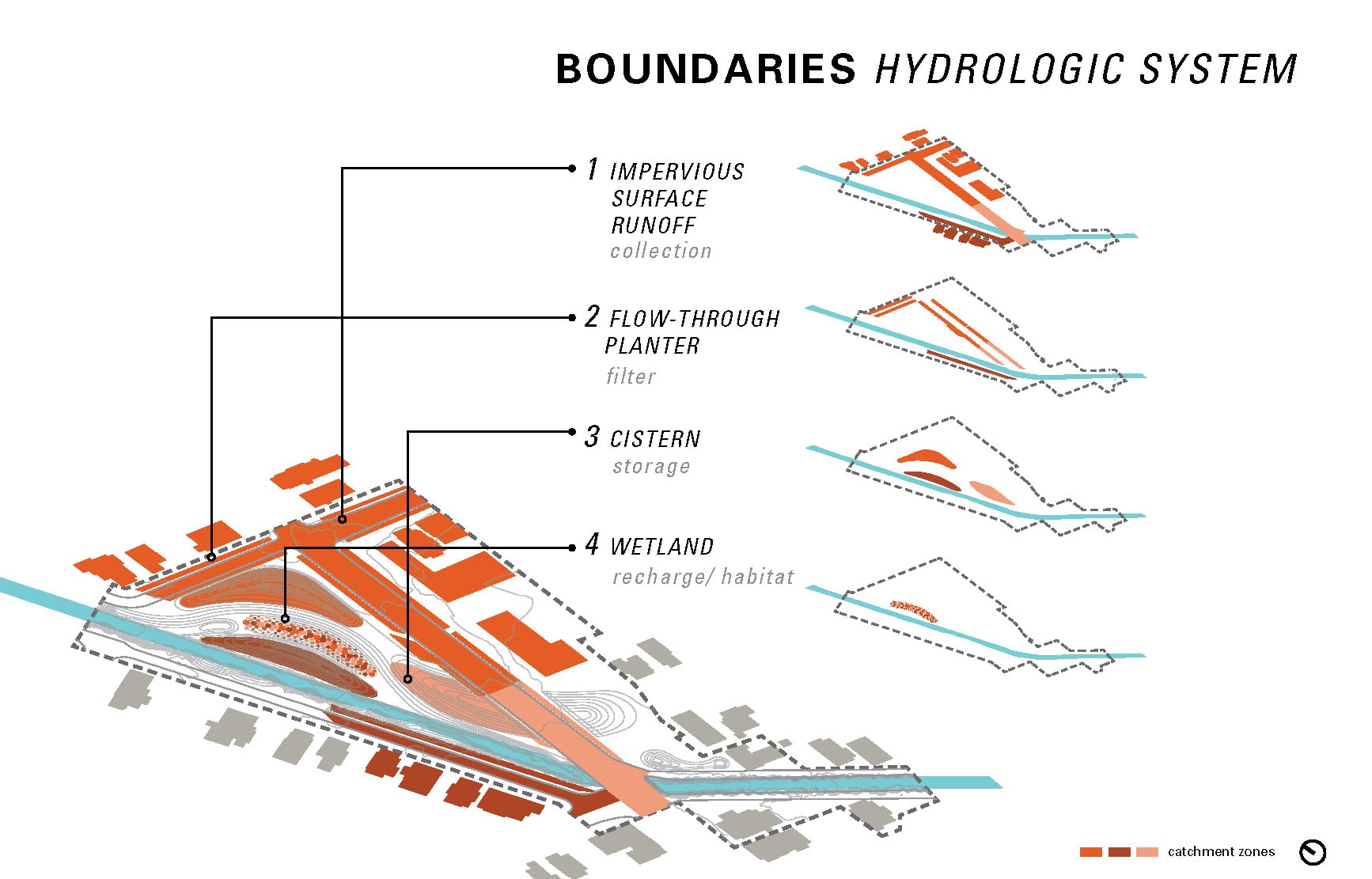 Image by Ashley Pelletier and Chris Simone