Much of Piermont sits at the base of the Palisades escarpment with its historic neighborhoods and downtown district only a few feet above sea level. It is also adjacent to Sparkill Creek to the south, which meets the Hudson River at Piermont Marsh, a tidal, brackish wetland. The Sparkill Gap historically offered access inland via the creek for maritime trade and, later, waterfront access for railroad from the west. More recently, it has developed a significant arts community and destination for cyclists, birders, and other tourists interested in its natural surroundings, casual dining, and local shops. Piermont currently experiences strong real estate interest due to its proximity to New York City, which makes it not only an accessible day-trip for tourists but also a convenient and desirable location for commuters and retirees.
Because of the village's low elevation location on the waterfront, flooding from storm surge impacts the village's waterfront neighborhoods and a large portion of the "downtown district" including key municipal and emergency service locations. Some neighborhoods are also currently impacted by periodic high tide-based "sunny day" flooding.  Over time, waterfront locations are projected to be subject to increased frequency of flooding and/or permanent inundation from sea level rise and/or extreme precipitation. Many residents consider the risk of flooding from storm events and sea level rise to be an existential threat to the community.
The 2017 senior urban design studio focused on the entire downtown waterfront of Piermont. The recent Piermont Exhibition and five alternative design concepts developed for the Piermont waterfront are below.
May 2019 CaD Piermont Exhibition
Evolve // Connect // Redefine
"Evolve // Connect // Redefine" (Trevan Signorelli BSLA'18, Erin Tou BS URS'18, and Cristian Umaña BSLA'18) reimagines Piermont as a waterfront community by applying several major moves. Construction of a channel as part of the Hudson in the lowest elevation areas of downtown would be accompanied by bridge spans over it to connect the downtown main street area to the existing condominium complex. Neighborhoods most susceptible to flooding and inundation on the southeastern end of the village would be strategically relocated or replaced with amphibious housing, while seawalls and berms that also serve as walking paths and ecological features would limit flooding in other neighborhoods along the Hudson and Sparkill. Finally, an elevated pier north of the village would provide a second commercial waterfront location for Piermont.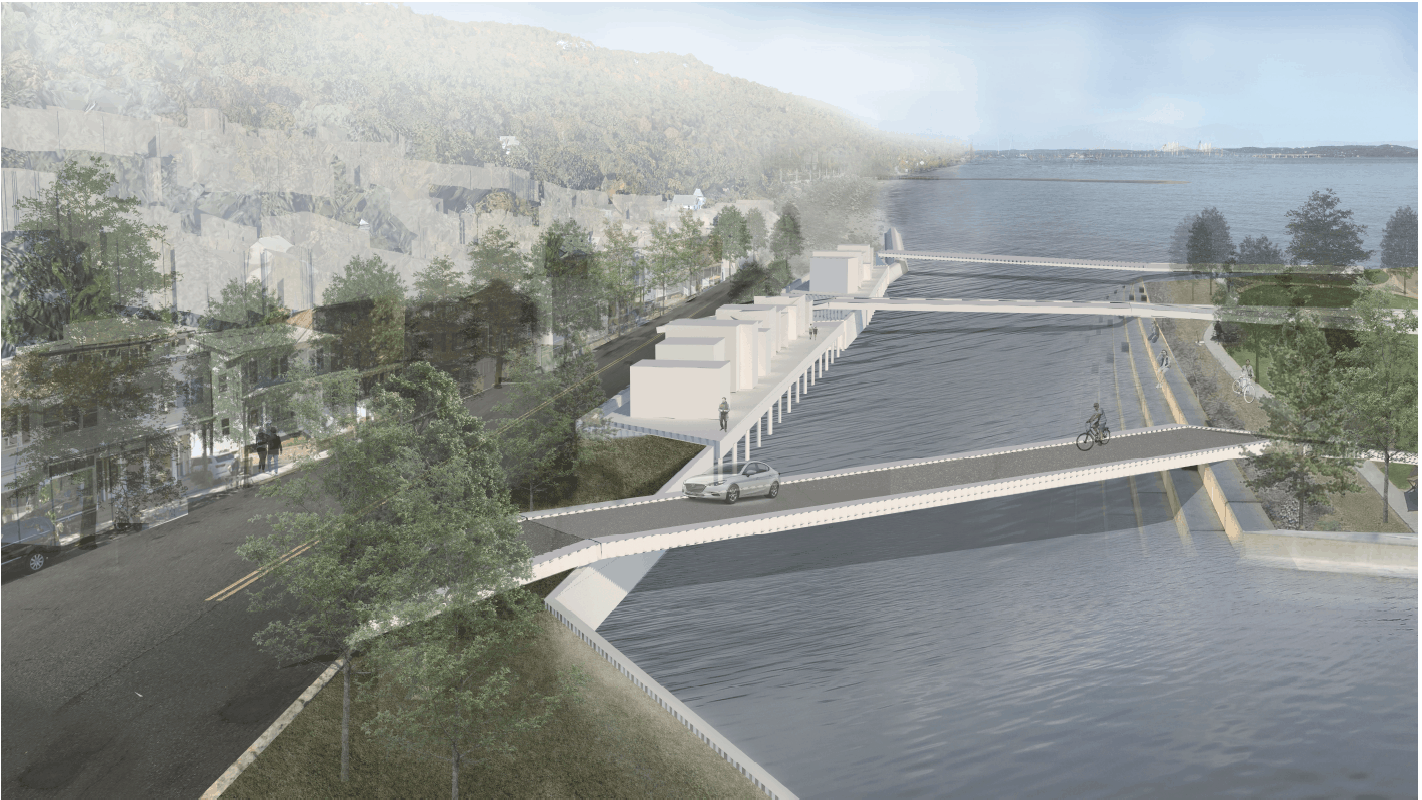 Image by Trevan Signorelli, Erin Tou, and Cristian Umaña, LA4010 Studio, Fall 2017 Cornell University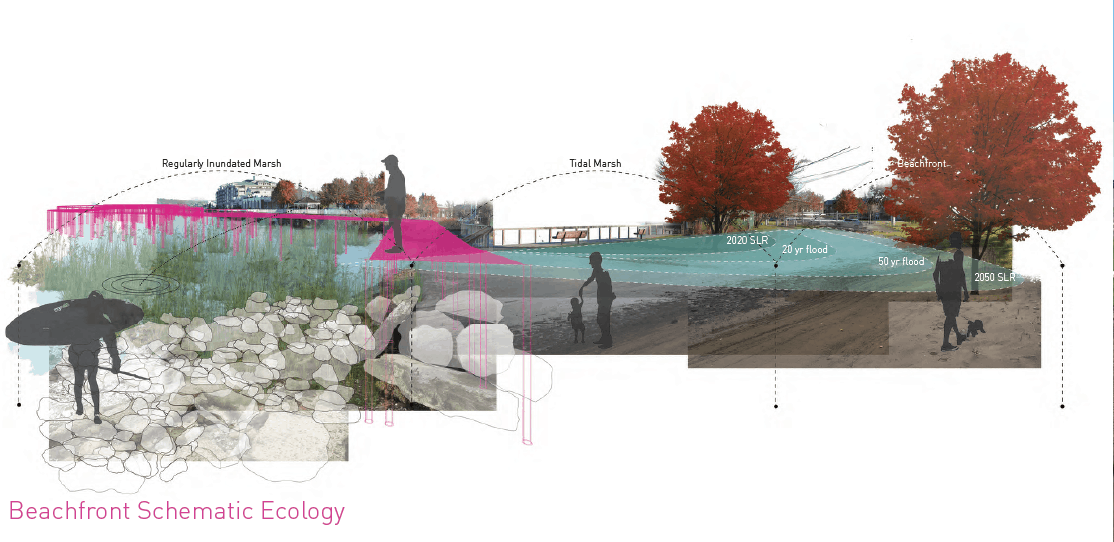 Image by Blake Enos, Jacob Kuhn, and Sage Magee, LA4010 Studio, Fall 2017 Cornell University
(Re)Appearing Piermont
"[Re]Appearing Piermont" (Blake Enos BSLA'18, Jacob Kuhn BSLA'18, and Sage Magee BS URS'18) proposes strategic relocation and/or amphibious housing in low-lying southeastern neighborhoods of the village to allow for marsh migration, with public access provided to the marsh via a boardwalk. As Piermont Avenue becomes more susceptible to flooding and inundation over time, elevated walkways will provide pedestrian access to the second stories of commercial buildings. Near downtown, a park above a parking garage and a new flood-adapted Flywheel Park provide open space between the marsh to the south and new wetlands on the north side of the pier (Figure 15).
Piermont Nexus
The "Piermont Nexus" design concept (Woo Young Choi BSLA'18, Yiren Du BSLA'18, and Shaun Wu BS URS'19) proposes three nexus points on the waterfront – a "New Urbanist Hub" with a community park and program space located near present-day Flywheel Park, an elevated promenade on the "Pier," and a protective "Terrace" at Ferry Road and Piermont Avenue. The design concept includes elevated roadways and the construction of a "megaberm" using materials repurposed from the demolition of the old Tappan Zee Bridge, upon which the new town center is elevated above projected sea level rise and flood elevations.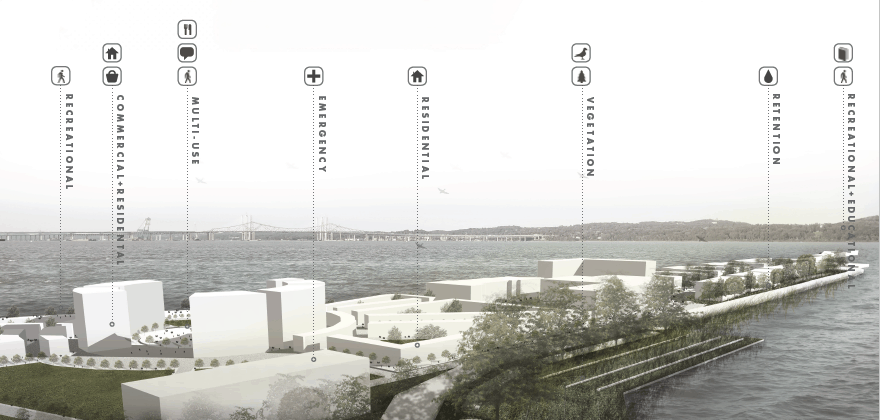 Image by Woo Young Choi, Yiren Du, and Shaun Wu, LA4010 Studio, Fall 2017 Cornell University Image by Abdulaziz Alrifaie, Lucas Bulger, and Naixin Ren, LA4010 Studio, Fall 2017 Cornell University
Piermont: A New Beginning
"Piermont: A New Beginning" (Abdulaziz Alrifaie BSLA'18, Lucas Bulger BS URS'19, and Naixin Ren BSLA'18) positions the entire village as an exhibition space for climate-adaptive interventions. A museum for resilience serves a dual function as a flood wall while demonstratiing other adaptation techniques that are exhibited outdoors along the northern edge of the condominium development.  Elevated walkways throughout the village and marsh allow visitors to observe adaptation activities in action in the neighborhoods. A levee around much of the waterfront, which also doubles as a bike path, has a flood gate to the south of Piermont to allow movement of daily tides and Sparkill flows while protecting from certain flood events.  The path sits atop breakwaters to the north of Piermont that can intercept debris 'projectiles' during Hudson flood events.
Culture-Led Adaptation
In "Culture-Led Adaptation" (Najila Ahsan BS URS'19, Caterina Brescia BSLA'18, Edna Samron BS URS'19, and Yuchen Tong BSLA'18), an upwardly spiraling art museum serves as a flood-adapted attraction nearby art-related galleries, creating a new node of activity in Piermont's downtown. Parts of a one-way network of roads are elevated to limit flooding in select downtown locations. Other neighborhoods projected to be inundated would be relocated to a proposed development uphill, where residents could remain in Piermont while maintaining visual access to the Hudson River.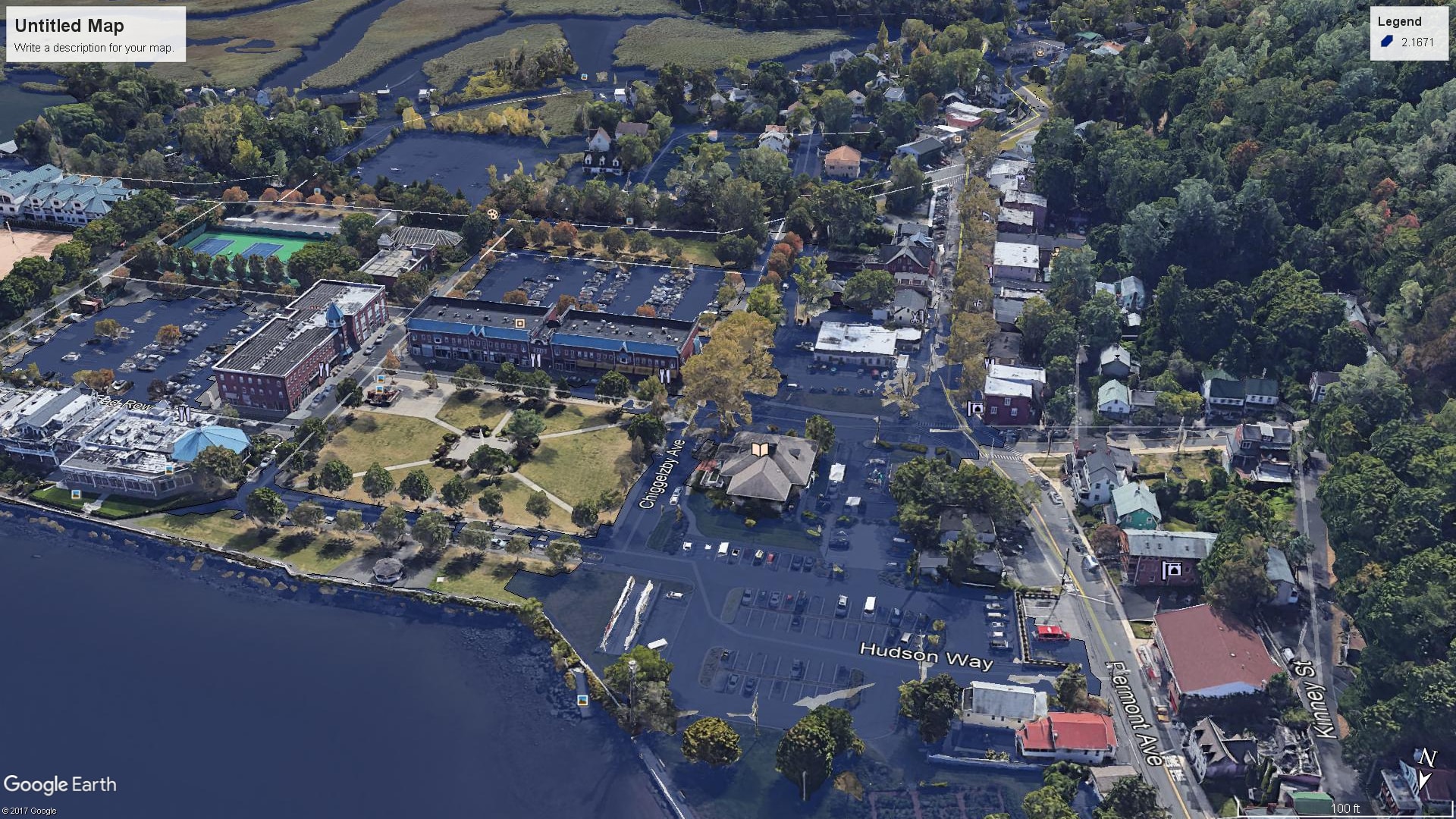 View of Piermont's waterfront downtown with 3D projected 2080's sea level rise elevation data ported into Google Earth by the Climate-adaptive Design Lab