The first cpmmunity-engaged CaD Studio took place in the downtown area of Catskill, New York. The downtown area has enjoyed increasing interest from a growing and art community. Recent parcel acquisitions by craftspeople, the American Dance Institute, and other businesses are positioning expansion of the downtown area towards the Catskill Creek waterfront. Older, historically significant buildings are being renovated to support these interests. Meanwhile, periodic flooding from Catskill Creek, which is projected to also be subject to sea level rise associated with climate change, threatens waterfront portions of Catskill's downtown along the creek. Cornell Landscape Architecture's LA4010 senior undergraduate design studio developed five alternative design concepts for the downtown Catskill project area. Each generated options for climate adaptation including floodable park spaces and flood-adapted structures, while seeking to link waterfront interventions to the ongoing revitalization of Catskill's downtown. The four projects are described below.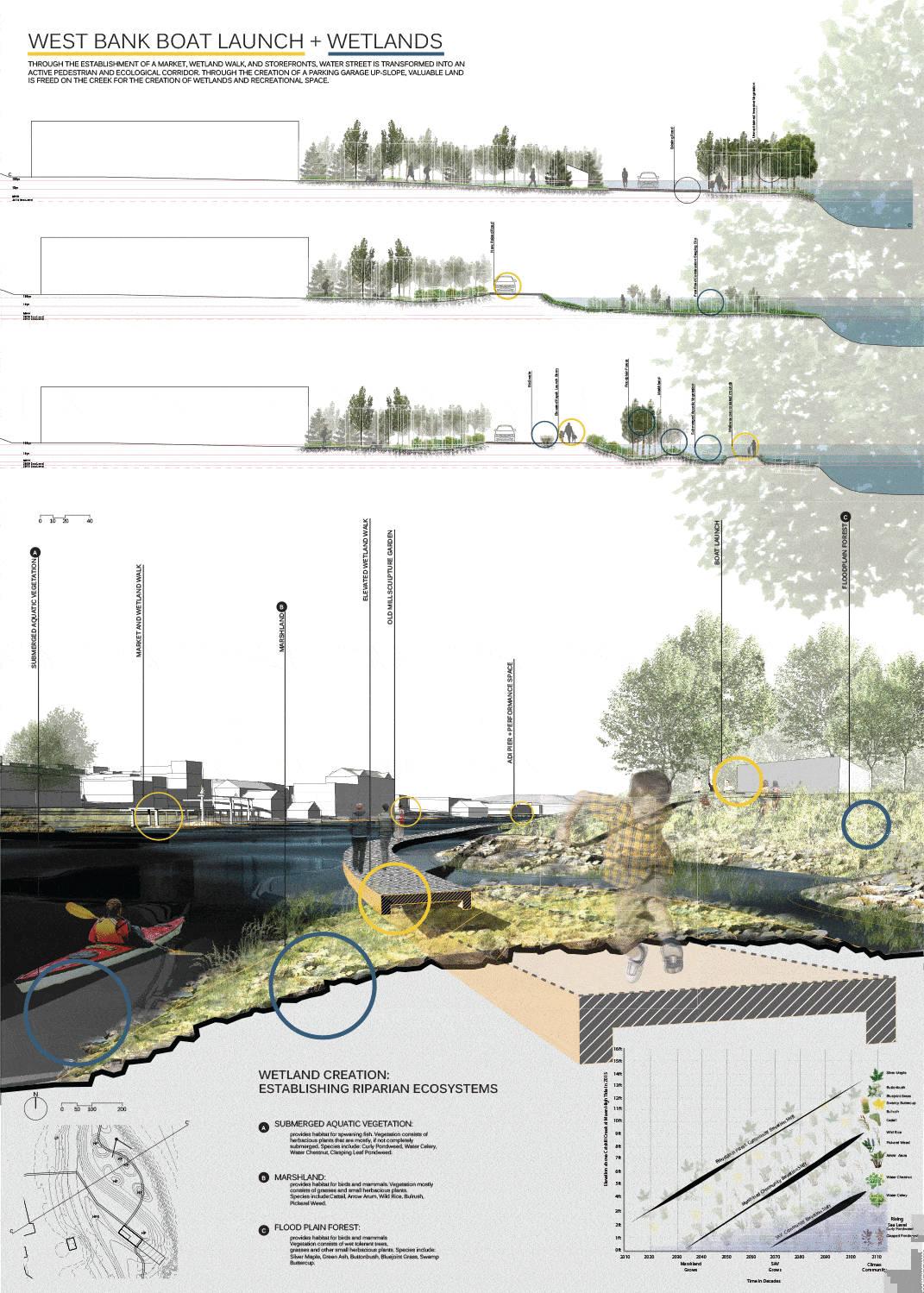 Image by Madi Gawith and Garrett Craig-Lucas, LA4010 Studio, Fall 2015 Cornell University
Coalescing Catskill
Three major strategies guided the "Coalescing Catskill" (Madi Gawith BSLA'16 and Garrett Craig-Lucas BSLA'16) design concept: restoration of urban form to energize streets and spaces, elevation of program areas, and creation of wetland habitat. Notable features include exploration of a conceptual grading plan for an elevated street on the west side of the creek for flood protection benefits (Village of Catskill, 2014), floodable park amenity on both sides of the creek, and a proposal for a new structure on upper elevations of Water Street to meet both parking and commercial space needs for Catskill as part of a "Water Street Market" revitalization concept.
Catwalk
Inspired by Catskill's burgeoning arts culture, the "Catwalk" (Zhijun Guo BSLA'16 and Julie Romualdez BSLA'16) alternative design concept proposes the use of stormwater art installations as a means for attracting visitors and residents to the Village's new waterfront trail planned for installation in 2016. It carries the Village's theme of park "slides" connecting residential areas to downtown down all the way to the waterfront through a new pedestrian-only walkway on Canal street composed of flow-through planters to capture and detain roof and street runoff as a demonstration of the environmental and amenity benefits of urban green infrastructure.
Let's Meet with Water!
"Let's Meet with Water!" (Xiaotang Tang BSLA'16 and Zili Xiang BSLA'16) takes a phased approach that seeks to juxtapose redevelopment and open space creation in concert with sea level rise and changing flood elevations. It proposes retrofitting a parking lot used only during weekday business hours to facilitate an artist open market on weekend days or evening hours when parking isn't needed.
Connection (In)tension
"Connection (In)tension" (Nicole Nakakura BSLA'16 and Wow Chiaravanont BSLA'16) seeks to tie the businesses and open spaces along each side of the creek together through a series of "anchor points." These locations can activate the waterfront by connecting sites, views, and people along Catskill Creek while addressing climate adaptation goals.
This project is funded by NYS Water Resources Institute at Cornell University and the NYSDEC Hudson River Estuary Program with support from the NYS Environmental Protection Fund.