The CaD studio in the Spring of 2016 focused on the South Bay waterfront area of Hudson, New York. With a regionally and nationally important past as a strategic port for the whaling industry, in more contemporary times Hudson has undergone significant growth and property valuation driven in part by the efficient transportation network connecting the City of Hudson to New York City. Many have discovered the benefits of either living in Hudson and working in Manhattan during the week, owning a relatively inexpensive second home in Hudson for weekend use, or visiting Hudson for extended weekends as a visitor. The downtown area of the City of Hudson has undergone major revitalization and success as a growing commercial center supporting artists, antique dealers, and tourism. Many older and historically significant buildings have been renovated to support these interests, but space is limited. This interest in Hudson, and present and future needs to accommodate a growing and diverse tourism and maker economy, has resulted in renewed attention in the cities historic waterfront.
Cornell Landscape Architecture's LA6020 second year, second-semester graduate studio developed eight alternative design concepts for the South Bay project area. Each generated options for climate adaptation in consideration of growing interest in development, ecological conservation, access and recreation, industry, and historic preservation of the adjacent riverfront.
Image by Kimber Martin and Fei Peng, LA6020 Studio, Spring 2016 Cornell University
Hudson Hub
Recognizing the City of Hudson as a growing regional hub of culture, eco-tourism, and outdoor recreation, "Hudson Hub" (Kimber Martin MLA'17 and Fei Peng MLA'17) proposes increased ecological, hydrological, pedestrian and cultural connectivity between the river, the City and South Bay. Taking the need to elevate the railway as an opportunity, a canal is proposed underneath to allow biotic and recreational access between the currently restricted East Basin and the Hudson River. A trolley running along existing tracks connects the waterfront to inland parts of the City. Boardwalks and trails encourage pedestrian exploration of the new South Bay. Green infrastructure elements like bioswales, greenroofs, and stormwater-retaining parks address runoff issues while building upon the ecological character of the area.
Unsinkable: The Wetland Industrial Complex
"Unsinkable: The Wetland Industrial Complex" (Alisa Chirico MLA'17 and Graham Smith MLA'17) focuses on the intersection and overlap of urban, industrial, and wetland fabric in the South Bay by weaving elements through each other and proposing multi-function designs. The proposal addresses the currently disjointed, uninviting, and inaccessible site conditions with a new street grid designed to create purposeful sightlines, invite foot traffic, and encourage new, pedestrian-oriented development in place of derelict buildings. Parking lots with dense tree canopies and wildflower meadows provide overflow parking in a more visually inviting space while also reducing urban heat island effect, decreasing impervious surface area, and building ecological diversity into the broader site.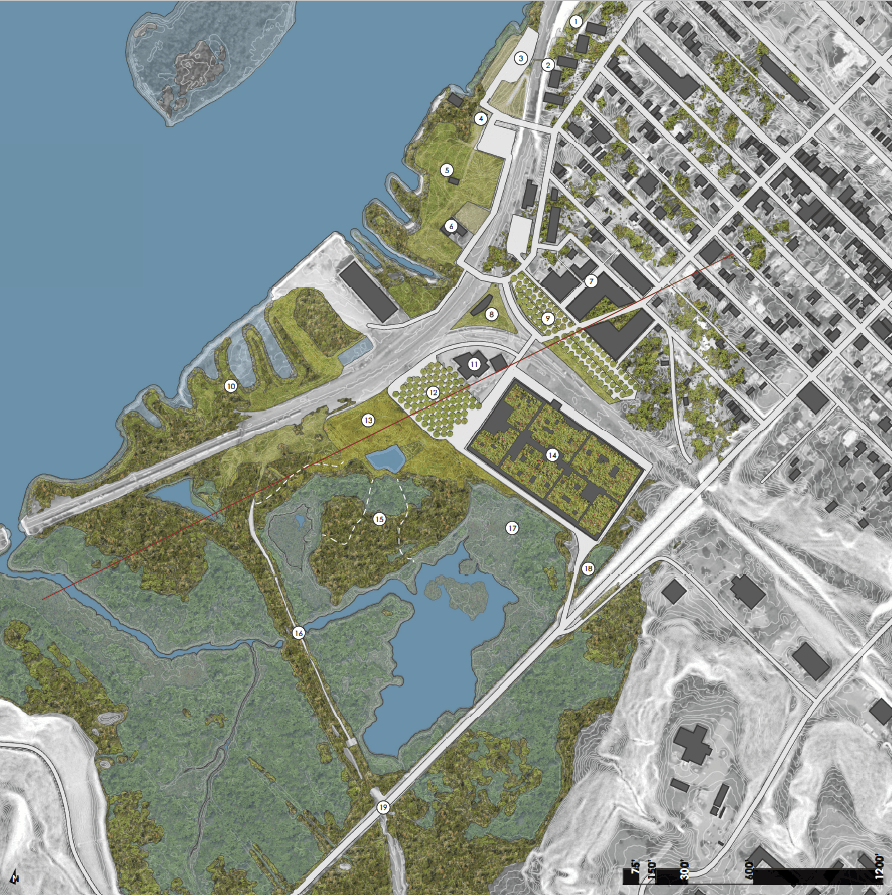 Image by Alisa Chirico and Graham Smith, LA6020 Studio, Spring 2016 Cornell University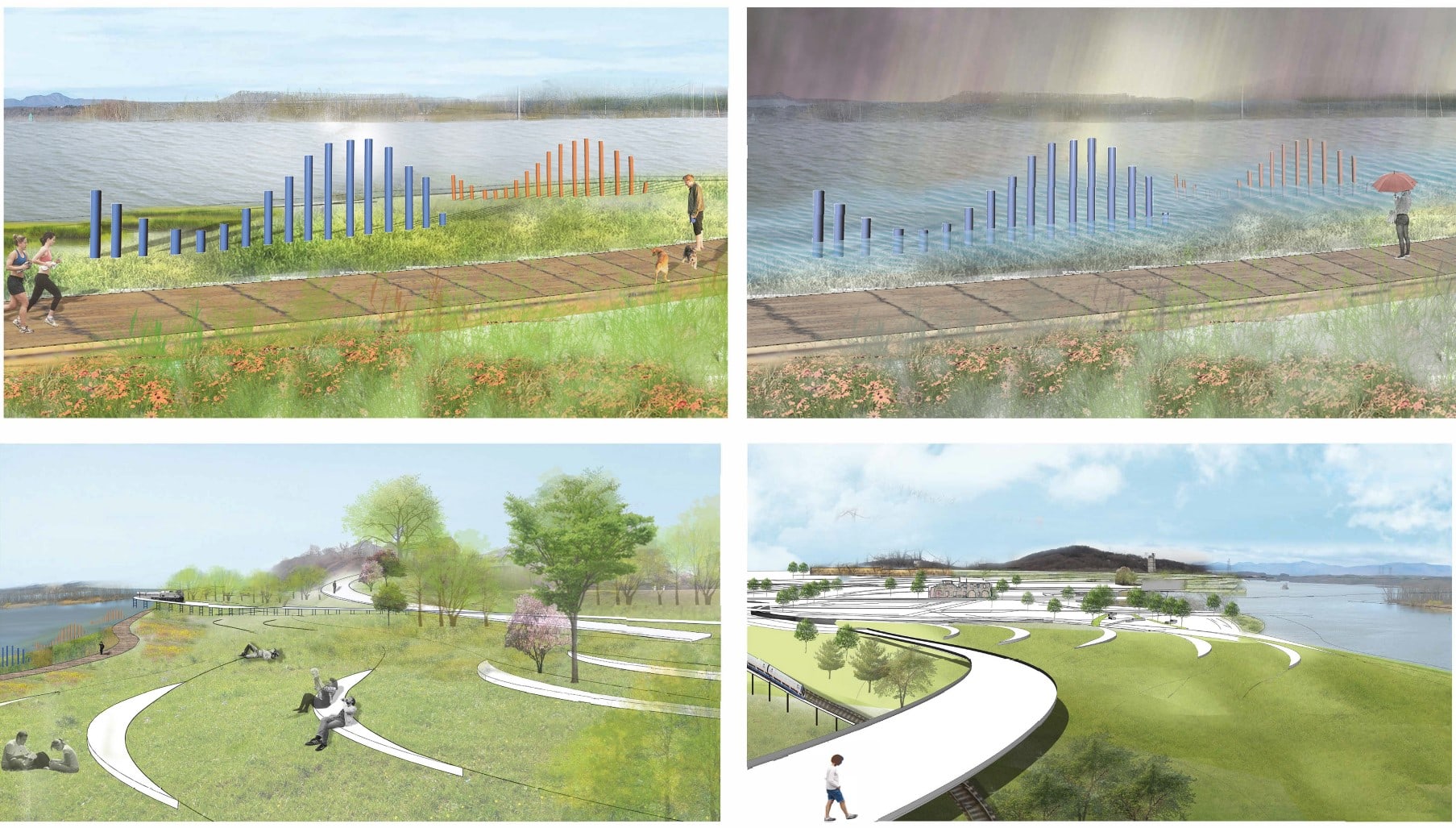 Image by Ming Chi and Xiaoying Li, LA6020 Studio, Spring 2016 Cornell University
Time Refractor
To turn a design into a tool for public understanding, "Time Refractor" (Ming Chi MLA'17 and Xiaoying Li MLA'17) aims to reveal natural processes such as sea-level rise and corresponding wetland migration to aid public understanding of climate change threats. Since temporally distant uncertainty and hazards are typically difficult to conceive, cultural and public space are infused with reminders and benchmarks of future climate change threats in the form of sculptural interventions, flood adaptive landforms, interactive pedestrian space, and ecologically revelatory parks.
Hudson Rising
The "Hudson Rising" design concept (Sara Hirsch MLA'17, Kyle Sitzman MLA'17, and Alice Sturm MLA'17) seeks to create a more connected waterfront park, a more resilient and expansive street grid, and a more visible and accessible wetland. Key features of the design include an elevated boardwalk encircling park space expected to flood by mid-century, adaptation and reuse proposals for existing buildings and infrastructure, shoreline softening strategies, wetland restoration and access, and elevation of the existing railway and highway above flood projections.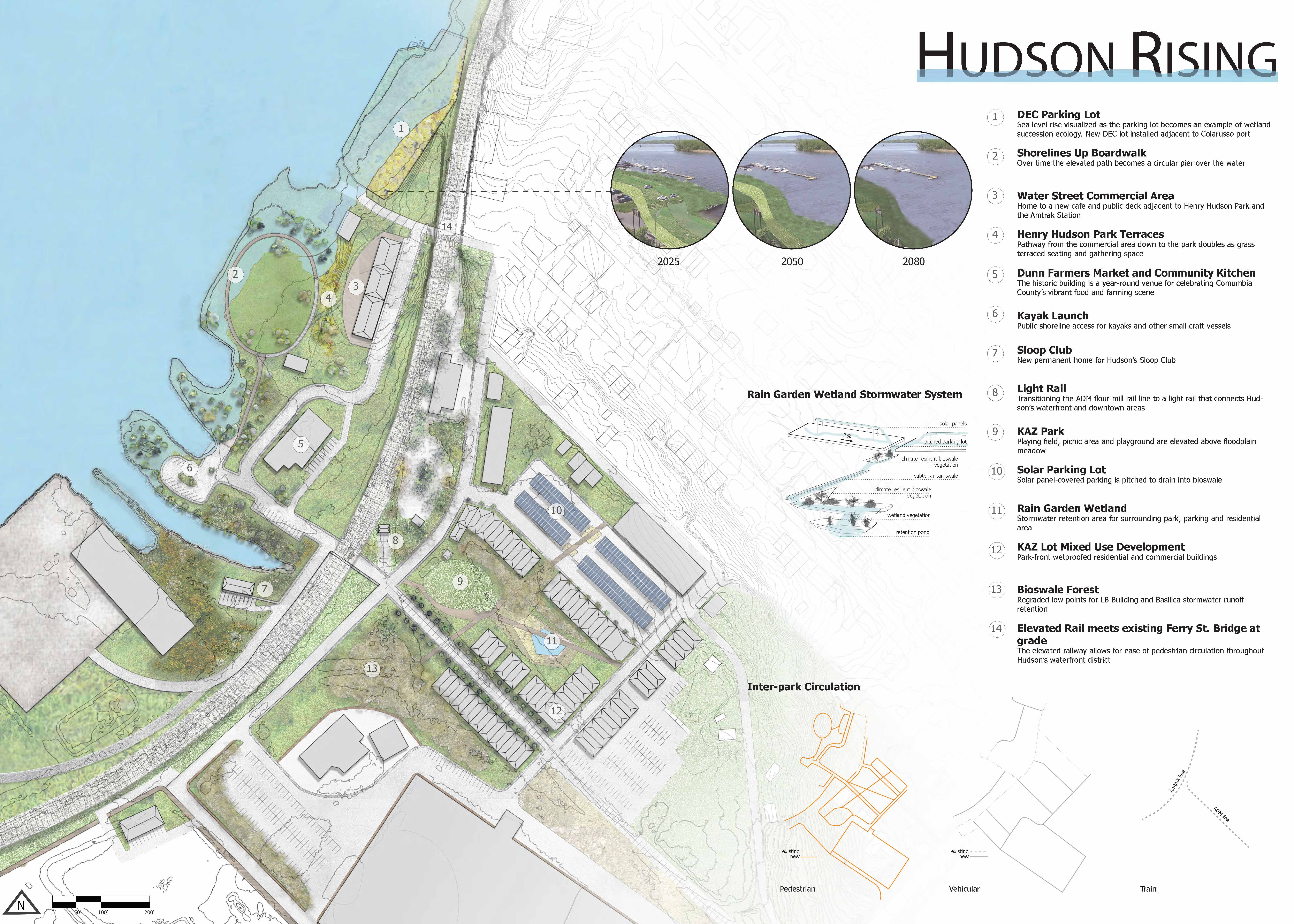 Image by Sara Hirsch, Kyle Sitzman, and Alice Sturm, Spring 2016 Cornell University
Hydrotropic Hudson
In the "Hydrotropic Hudson" design concdept (Kristen Ryan MLA'17 and Quinn Uesugi MLA'17) rising sea-level, increased flooding, and increased precipitation are treated as an invitation for more public access and engagement with water, incorporating flood-responsive parks, a South Bay ecology center, wetland trails and boardwalks, extensive rain gardens, and buoys to harvest tidal energy. To take advantage of hydrological changes, undulating landforms direct and harness floodwaters as revelatory park features. Deteriorating industrial architecture is phased out and transformed into public event space. Rail lines are elevated, stations are relocated uphill, and historically and culturally valuable buildings are flood-proofed in place.
Higher Hudson
To revitalize the waterfront, "Higher Hudson" (Lauren Butts MLA'17 and Sophie Wistrom MLA'17) proposes the transformation of the South Bay into a site of vibrant social and economic life, with a stronger identity prepared for the impacts of climate change. Fundamental to this change is improved pedestrian connectivity between the main downtown commercial area and riverfront features via a stair tower at Promenade Hill Park, new stairs between Cross and Allen Streets, and new pathways throughout the site. Incorporated along these new pedestrian routes are moments of focus for pedestrians, such as the waterfront view from the Stair Tower or a small amphitheater on the river's edge. Ecological interventions are integrated into new, mixed-use development, and plans are proposed to accommodate wetland migration in place of aging, industrial buildings as they reach the end of their usability.
Bridge the Gap
To reduce flood and inundation vulnerability, "Bridge the Gap" (Viddhi Jhaveri MLA'17 and Yiying Bao MLA'17) proposes elevation of many functions, from rail lines and highways to commercial and residential programming, and even pedestrian activity.
This project is funded by NYS Water Resources Institute at Cornell University and the NYSDEC Hudson River Estuary Program with support from the NYS Environmental Protection Fund.