This combined third-year graduate and senior undergraduate design studio investigated climate-associated flood and inundation risks to Poughkeepsie, New York's popular waterfront. The waterfront's notable features include a nearby rail station with direct service to New York City, the new and famed Walkway-over-the-Hudson, multiple parks, a marina, restaurants, the mouth of the Fall Kill, college properties, a museum and several residential neighborhoods. A major portion of the waterfront is owned by Poughkeepsie as park property and there are many types of daily and seasonal users. Nearby developments, some going in now, situate a range of income levels and space for future development will soon be very limited. Our studio explored the tension between equitable waterfront access and economic development, tourism interests and local needs, and new growth amongst Poughkeepsies's unique ecological and cultural heritage.  Importantly, these tensions will be further exacerbated by climate-associated flooding and sea level rise. The design team was comprised of 10 graduate and four undergraduate students in the LA7010 Design Studio with Associate Professor Josh Cerra from the Cornell Dept. of Landscape Architecture.
 2021 CaD Poughkeepsie Lookbook Slide Deck -coming soon
2021 CaD Poughkeepsie Exhibition Slide Deck -coming soon
FLOOD//LAND
by Dominic Malacaman BSLA'22
On many Hudson waterfronts, land that is currently flood-susceptible and projected to be inundated in the future often sits on historical fill that was added to make room for past industry and other development. Though past fill activities have historically led to many issues that affect today's waterfronts, land-shaping can also be used to prepare Poughkeepsie's waterfront for climate risks including sea level rise and increased flooding. Flood//Land uses strategic cut and fill operations to creatively make way for projected inundation while grading for new usable upper elevation spaces outside of today'sand tomorrow's floodplain.
FREEZE  THAW  EXPAND
By Sophie Bellemare, MLA'21
Throughout history the Poughkeepsie waterfront has proved to be dynamic – ebbing, flowing and transforming through time. From the frozen glacier that formed the Hudson River, to the ice industry that later dominated the shoreline, the waterfront is now in a new transitional phase. With the increasing threats of climate change the waterfront is in the process of expanding its critical climate-adaptive and community infrastructure. Freeze, Thaw, Expand identifies current blockages to waterfront access while harnessing processes that improve its resilience to transform the waterfront for a more climate-adaptive and equitable future.
Lightness, Connection and Folding Memories
By Tingyue Tan BSLA'22
Every place is a product of its history, building up in layers over time. This project sought to illuminate certain histories as a way to link the city with its waterfront past, present and future. The current Poughkeepsie waterfront consists of three major obstacles: extreme climate events, inconsistency of connectivity and insufficient representation of the historical importance of the city. To cope with these problems, three concepts are introduced: Lightness, Connectivity and Memory.
A Living Shoreline for All
By Xinyue Hope Shen MLA'22
'A Living Shoreline for All' resolves boundaries between the city and its waterfront to create opportunities for reunion and reciprocation between humans and nature. Accentuating links between social resilience and ecological resilience, the project envisions several waterfront 'labs' that garner both environmental and social benefits. A Fall Kill lab provides a space for study and learning about the Hudson's marshes and tributary habitats. A Living Shoreline lab accesses daily tidal fluctuation as an opportunity to restore shallow-water habitats at Waryas Park in ways that are accessible to users. A Carbon lab in Kaal Rock Park enhances forested areas. An Ecological-Urban lab on the southern waterfront protects from erosion and creates recreational space for activities and events.
Intertwining Poughkeepsie and Its River
By Kelly Zhan BSLA'22/BES'22
This project amplifies what people love about the waterfront while embracing, instead of retreating from, the changing climate conditions and river forces of the Hudson to create a unified and intertwined park for the people of Poughkeepsie and the river. Kelly's project compared the movement of water and people, and created space for both to gather, drift, linger and flow. In her design, the mouth of the Fall Kill is naturalized and an amphitheater is created for performances in Waryas Park. The design also features two elevated walkways that will register how water levels are changing over time, and help to maintain access as sea-level rises.
Strand Forms
By Dustin Smith MLA'22
A 'strand' is defined as a thin length of material, usually intertwined with other strands. Strand Form is just that – a series of intertwined strands that weave the Poughkeepsie waterfront. Three strand forms – the eco-strand, skate-strand and the kinetic strand – intertwine in this project to address issues of sea-level rise, changing environmental conditions and disconnectedness along the waterfront. The skate strand is both a skate park and a stormwater management feature that extends across the site, providing stormwater and social benefits. The kinetic strand is a walkway that is designed to respond to changing water levels. The eco strand seeks to address the threat of loss of biodiversity that climate change poses, as well as providing a dynamic buffer to prevent ice shear erosion in the winter.
Waterfront as Place of Encounter
By Andrew Curtis MLA '22
By Lauren Cruvellier MLA '22
Ecological Restoration at Play
By Yvette Pollack MLA '22
Poughkeepsie Waterfront
By Sirui Qiu MLA '22
Permeable Connection
By Kate Flaherty MLA'23/MRP'23
Metamorphic Hudson
By Monica Rourke MLA'22
The intent of Metamorphic Hudson is to strategically allocate resources  currently available and those anticipated for Poughkeepsie to implement a series of shorelines for a diversified and resilient waterfront. As inundation and flood levels rise, the impermanent primary shoreline will disappear, the secondary becomes the primary, and a new waterfront identity will emerge.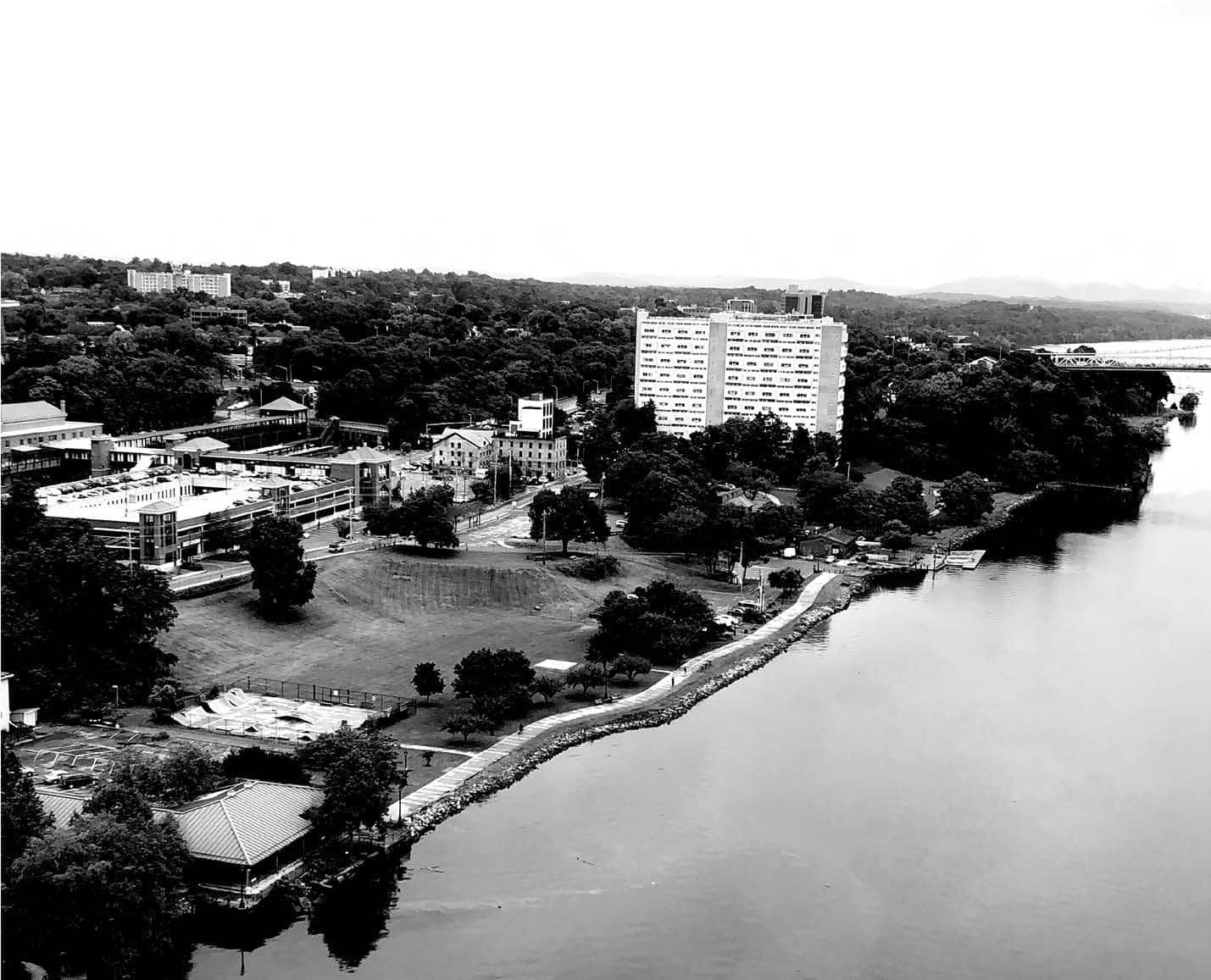 Image by Lydia Macklin Camel
Uncertain Futures
By Lydia Macklin Camel MLA '22
Performance Laboratories of Poughkeepsie
By Allan Greller MLA'23